International Summer School on Simulation and Artificial Intelligence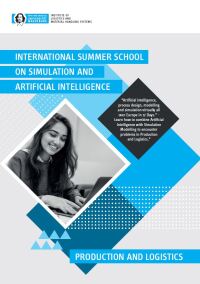 Overview
VIRTUAL INTERNATIONAL SUMMER SCHOOL ON SIMULATION AND ARTIFICIAL INTELLIGENCE
Date: 16.08.2021 - 28.08.2021
Language of instruction: English
Location: online/virtual
Target Group:

Master students
Graduates
Trainees
Professionals

Program Duration: 12 days
Description
A high-quality consortium of European educational institutions has come together to host a virtual international summer school on Artificial Intelligence and Simulation. The summer school is an exceptional opportunity to acquire knowledge, gain cultural experience and build an international network in a compact form.
Otto-von-Guericke-Universität (OVGU) is a comprehensive university with about 14.000 students. It provides bachelor, master and PhD programes with an emphasis on Artificial Intelligence, simulations and modelling as well as systems engineering.

Zaragoza Logistics Center (ZLC) is a private, stateaccredited university specialising in high-quality degree programmes and continuing education programmes for logistics professionals. It focuses on logistics process design and supply chain management. ZLC is part of Global Scale Network of the Massachusetts Institute of Technology (MIT).




Ostbayerische Technische Hochschule (OTH) is a technical university of applied sciences with about 11.000 students. It off ers practice-oriented bachelor and master degree programmes in engineering and business studies with specialisations in material flow and factory simulation.

Transport and Telecommunication Institute (TSI) is a private, state-accredited university specialising in attractive degree programmes for students either as full-time, part-time, modular or distance learning. They are focused on transport, IT, robotics, logistics and aviation.
Schedule
In advance: MODULE 1 - VIRTUAL ONBOARDING (individually, 3-5d) - The Summer School offers a virtual onboarding format for individual preparation on the contents. The following topics will be addressed:
- Introduction of process modelling and discrete-event simulation in production and logistics
- Introduction of optimization approaches in production and logistics
33CW2021

Mon

Tue

Wed

Thu

Fri

Sat

16.08.2021

17.08.2021

18.08.2021

19.08.2021

20.08.2021

21.08.2021

morning

MODULE 2

MODULE 2

MODULE 3

MODULE 3

MODULE 4

MODULE 8

INTRODUCTION OF TOOLS, SOFTWARE AND PROGRAMMING

INTRODUCTION OF TOOLS, SOFTWARE AND PROGRAMMING

FUNDAMENTS OF MODELLING AND SIMULATION

FUNDAMENTS OF MODELLING AND SIMULATION

SIMULATION-BASED OPTIMIZATION AND EVOLUTIONARY ALGORITHMS

INTERCULTURAL EXPERIENCE

Introduction of the following tools:
- PlantSimulation (by Siemens)
- AnyLogic

Introduction of the following tools:
- ExtendSim

Introduction to optimization in production and logistics (Fundamentals and practical exercises)

The main paradigms of simulation are presented and differences
are highlighted.

The following topics will be addressed:
- Basic concepts from probability theory and queuing theory
- Model as a "black-box" function

- Virtual city tour and introduction

afternoon

MODULE 8

MODULE 2

MODULE 3

MODULE 8

MODULE 4

INTERCULTURAL EXPERIENCE

INTRODUCTION OF TOOLS, SOFTWARE AND PROGRAMMING

FUNDAMENTS OF MODELLING AND SIMULATION

INTERCULTURAL EXPERIENCE

SIMULATION-BASED OPTIMIZATION AND EVOLUTIONARY ALGORITHMS

Free time

- Virtual tour through city and campusses (Magdeburg, Riga)

Introduction of the following tools:
- Python

Introduction to optimization in production and logistics (Fundamentals and practical exercises)

- Virtual tour through company

The following topics will be addressed:
- Introduction to gradient-free optimization techniques
34CW2021

Mon

Tue

Wed

Thu

Fri

Sat

23.08.2021

24.08.2021

25.08.2021

26.08.2021

27.08.2021

28.08.2021

morning

MODULE 5

MODUL 6

MODUL 6

MODULE 7

MODULE 7

MODULE 8

SIMULATION "HACKATHON"

ARTIFICIAL INTELLIGENCE AND
MACHINE LEARNING

ARTIFICIAL INTELLIGENCE AND
MACHINE LEARNING

CASE STUDIES ON ARTIFICIAL INTELLIGENCE
AND SIMULATION

CASE STUDIES ON ARTIFICIAL INTELLIGENCE
AND SIMULATION

INTERCULTURAL EXPERIENCE

The following steps will be done in multinational groups:
- Analysis of the problems
- Identification of solution architectures

Introduction and application of open-source Machine Learning libraries for typical problems related to production and logistics.

Introduction on
the concept of agents in sense of Artificial Intelligence.

The following processing steps are worked out:
- Problem analysis and modelling
- Identification of solution strategies
- Development of concepts for the simulation model
incl. Artificial Intelligence components

The following processing
steps are worked out and presented:
- Processing and assessment of the case study results
- Preparation of presentation

- Introduction of regional culture

afternoon

MODULE 5

MODULE 8

MODUL 6

MODULE 8

MODULE 7

SIMULATION "HACKATHON"

INTERCULTURAL EXPERIENCE

ARTIFICIAL INTELLIGENCE AND
MACHINE LEARNING

INTERCULTURAL EXPERIENCE

CASE STUDIES ON ARTIFICIAL INTELLIGENCE
AND SIMULATION

Free time

The following steps will be done in multinational groups:
- Development of adequate solution strategy
- Presentation and evaluation of results
- Feedback

- Virtual tour through city and campuses (Zaragoza, Regensburg)

Introduction on
the concept of agents in sense of Artificial Intelligence.

- Virtual tour through laboratory (Fraunhofer IFF)

The following processing
steps are worked out and presented:
- Presentation and evaluation of results
- Feedback
Dates and fees
Date: 16.08.2021 - 28.08.2021
Duration: 12 days
Application deadline: July 15
Seminar fees: 500€
10 % "Early Bird" discount deadline: May 15
Contact us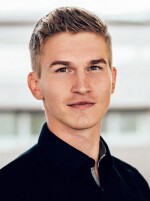 Paul Reichardt
Phone: +49 (0)391 67-57323
E-Mail: paul.reichardt@ovgu.de
Institute of Logistics and Material Handling Systems (ILM)
Universitätsplatz 2
39106 Magdeburg