ProdLog
Development of a Bologna-based Master Curriculum in Resource Efficient Production Logistics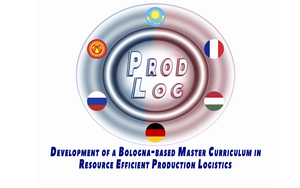 The project addresses the absence of a competitive industrial production sector in Kazakhstan, Kyrgyzstan and Russia, which can be one important part of a prospering economy. One of the reasons for this is the missing knowledge, expertise and methods to plan, design, implement and operate resource efficient production logistics systems. Without a profound knowledge on production logistics, only buying and installing new machinery is effectless when trying to compete on the world market. ProdLog aims at transferring production logistics knowledge to the partner countries and implementing it into the university curricula and also at transferring this knowledge from the partner countries university to the partner countries enterprises.
So far most of the university curricula on logistics in the partner countries deal only with transport and management but lack state of the art modules on production logistics and resource efficiency.
For that purpose, a bologna-based master curriculum with 18 modules in resource efficient production logistics will be developed and implemented in six universities of the partner countries. The academic staff will be trained with innovative teaching methods in the learning factory "Technology center for production and logistics systems PULS" and equipped with state of the art logistics laboratories. By means of that, the understanding of logistics shall be widened - away from transport logistics to a systemic and interdisciplinary approach of applicant-oriented education, challenges with economic, political and social problems of our society.